TUF-TUG Tote Tugger
A Compact Come-A-Long in a Carrying Case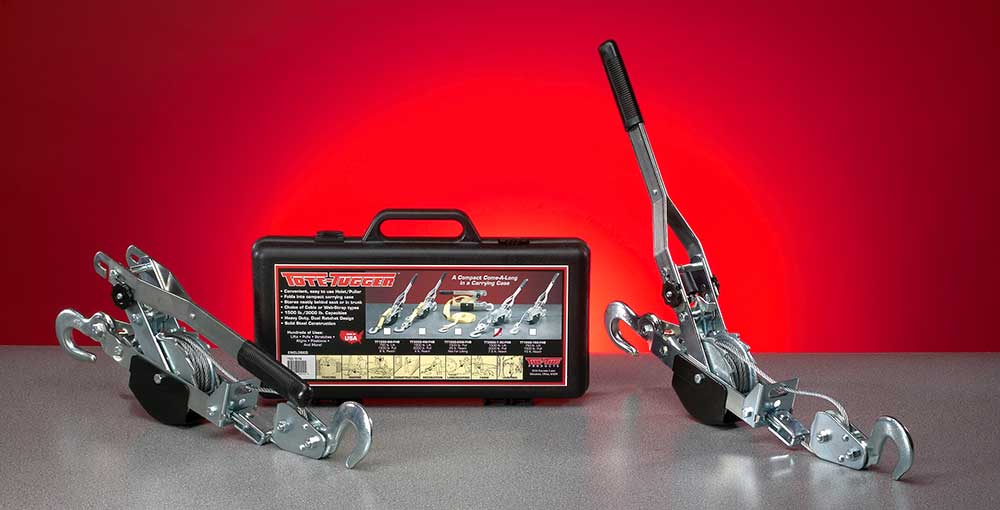 RIGGING AND SAFETY GEAR FOR LIFE ON THE EDGE®​
"Quality is long remembered after the price has been forgotten."
The Compact
Come-A-Long
in a Carrying Case
• Folds into compact carrying case
• Stores behind seat or in trunk
• Convenient, easy to use Hoist/Puller
• Heavy Duty, Dual Ratchet Design
• Choice of Cable or Webbing Models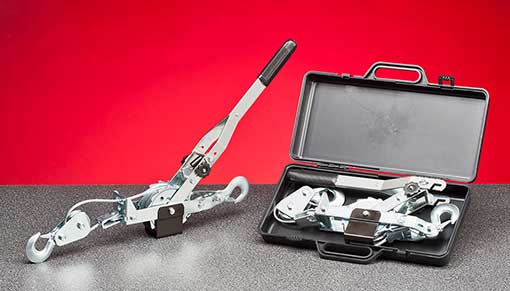 TT1500-8W-FHB
750 lb. Lift
1500 lb. Pull
8 ft. Reach
TT3000-4W-FHB
1500 lb. Lift
3000 lb. Pull
4 ft. Reach
TT1500-25W-FHB
1500 lb. Lift
25 ft. Reach
Not For Lifting
TT3000-7.5C-FHB
1500 lb. Lift
3000 lb. Pull
7.5 ft. Reach
TT1500-15C-FHB
750 lb. Lift
1500 lb. Pull
15 ft. Reach
Web-Strap Hoist pullers have a large ratchet diameter with a high tooth count to permit accurate positioning of loads.  The dual ratchet drive mechanism is designed for lasting durability in electrical utility work, construction, and industrial maintenance/repair operations.  The web-strap is nonconductive when clean and dry.
Cable Hoist Pullers are ideal for lifting, towing, pulling and tensioning.
Ratcheting mechanisms are driven either by a lever.
Heavy-duty aircraft cable helps withstand high tension and heavy loads.
Heat treated, drop forged, zinc plated, and corrosion resistant, the safety-latched hooks rotate 360°.
Our  Hoist Pullers Feature Solid Steel Construction and Dual-Ratchet Drive Design.
Fiberglass Handles are Available Upon Request.
Click here for a side by side comparison
of Web Hoist Pullers and Cable Hoist Pullers
Hundreds of Uses: Lifts • Pulls • Stretches • Aligns • Positions • And More!
All TUF-TUG Products are Proudly Made in the USA
Our Cable Hoist Pullers feature
Solid Steel Construction and 
Dual-Ratchet Drive Design.
Custom Units / Specials Available — Quoted Upon Request

3434 Encrete Lane
Moraine, OH 45439
ph: (937) 299-1213
fax:  (937) 299-0120
email: info@tuf-tug.com
RIGGING AND SAFETY GEAR FOR LIFE ON THE EDGE®