Insulated Synthetic Safe-Climb System
Conforms to OSHA Specification & ANSI Recommendations
American-Made Tuf-Tug Fall Protection Products
RIGGING AND SAFETY GEAR FOR LIFE ON THE EDGE®​
"Quality is long remembered after the price has been forgotten."
Insulated Synthetic Safe-Climb System
Model # TTISSC-(___)' L
(Specify length when ordering)

• For Use on AM/FM Radio and T.V. Broadcasting Antenna Structures
• Will not Interfere with R.F. Signal
• Meets ANSI A-14.3 Fixed Ladder Safety
• Designed for (2) Person Simultaneous Safe Climb Operation
• Optional Rope Grab Fall Arrestor Shown
• Standard Systems for Pylons in Stock
• Custom Installations Available.
• Designs Quoted Upon Request
 Fall Arrester
Model # TTISSC-RG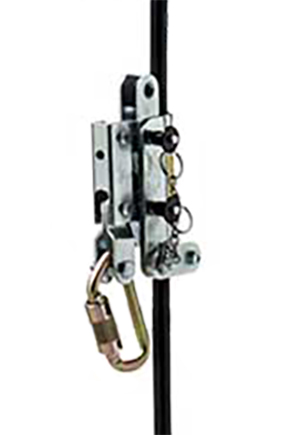 • Dual Cams/Double Safety Design
• Automatic Hands-Free Climbing for Ease of Operation
• Solid Steel Construction for Lasting Dependability
• Patented Design. Pivots Open for Line Attachment and Removal
• Meets ANSI Z.359 Performance Requirements and OSHA Specifications
• Proudly Made in the USA!
All TUF-TUG Products are Proudly Made in the USA
Insulated Synthetic Safe-Climb System
Custom Units / Specials Available — Quoted Upon Request
RIGGING AND SAFETY GEAR FOR LIFE ON THE EDGE®
© 2020 Tuf-Tug Products Inc., All Rights Reserved.