ANTENNA PIPE
ROOSTER HEAD
Max 250 lb. Lift Load Capacity
2″ and 4″ Diameter Pipe Mount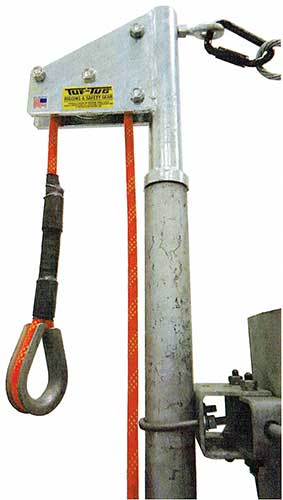 RIGGING AND SAFETY GEAR FOR LIFE ON THE EDGE®​
"Quality is long remembered after the price has been forgotten."
Antena Pipe Rooster Head
Hoists DAS/LTE Antennas into position for a quick and safe installation
2″ Part # TT2-APRH-250
4″ Part # TT4-APRH-300
Max 250 lb. Lift Load Capacity

4″ Pulley with Oversized Groove

Needle Bearing in Pulley

1/2″ Rope or 3/8″ Wire Rope

Solid Steel Construction

Hot Dipped Galvanized Finish

Weighs – 20 lbs.

Proudly Made in the USA!

Slides into Standard 2″ Diameter Pipe Mount
(Optional 4″ Diameter Pipe Mounts available)

Provided with engineered load charts
WARNING:  Read and understand all instructions and warnings before use.
Failure to do so may result in serious injury or structural failure.
Always have a rigging plan.
All TUF-TUG Products are Proudly Made in the USA
Antenna Pipe Rooster Head
Custom Units / Specials Available — Quoted Upon Request
RIGGING AND SAFETY GEAR FOR LIFE ON THE EDGE®
© 2020 Tuf-Tug Products Inc., All Rights Reserved.